Feasts of the Lord
The Lord said to Moses, "Speak to the Israelites and say to them: 'These are my appointed festivals, the appointed festivals of the Lord, which you are to proclaim as sacred assemblies. Leviticus 23:1-2
Resurrection Sunday - HE HAS RISEN!
Posted 4th April 2021
Today is Resurrection Sunday, the day we commemorate the fact that Jesus Christ rose from the dead, bringing to all of us, the free offer of eternal life through faith alone. Below is our pick of content published on, and around, this years Resurrection day.
Why Easter? Evangelist J.John talks us through why the secular festival of Easter is so important in the Christian calendar. This talk is aimed at those who have doubted or never fully accepted that Jesus rose from the dead and what that means to us today. [28 Mins]
God Has A Schedule, Watch How This Plays Out TyGreen talks about the season of the Lord's Feasts, and as we remember the Death Burial and Resurrection of our Lord and Savior Jesus Christ, how this is an opportunity to share just how amazing this season really is. [18 Mins]
The Resurrection Missionary Evangelist Robert Breaker speaks about the Resurrection of Jesus Christ, but also is careful to point out the resurrection of the dead, both of those who died IN CHRIST (the saved) and those who didn't (the lost), and when they will be resurrected. [33 mins]
Holy Week in Advance Dr. Andy Woods, Sr. Pastor at SugarLand Bible Church in Houston, discovers how the events of holy week were predicted in minute detail in the pages of God's prophetic word hundreds, and in some cases, thousands of years in advance. Part One, Luke 24:44 [64 mins]
Holy Week in Advance Part Two, Isaiah 53:10-11 [64 mins]
Feasts
Is Passover around April 26th in 2021?
Posted 27th March 2021
There is strong evidence that Passover 2021 is NOT March 27th, but April 26th. This is because the 1st day of the first month of the new year, MUST be in the spring - i.e. AFTER the spring equinox on March 20th. The 1st new moon after the spring equinox in 2021, is around the 13th April, meaning Passover will be on 26th April. This start date for the new year is really important, because all the other feasts are calculated relative to it; with most therefore, celebrating feasts like Pentecost, one month early! Take a look at these video's and make up your own mind.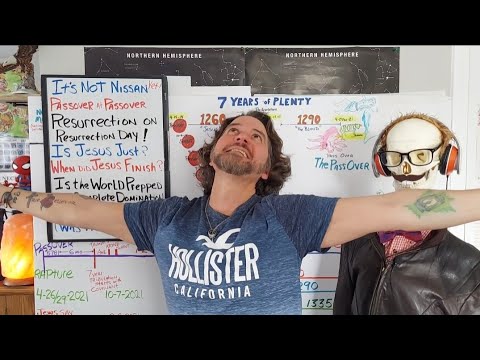 It's the END OF THE WORLD as we know it and I feel fine - Dr Barry Awe [62 Mins]
Finding Pentecost on God's Calendar. Simply Explained. - SR Monette [14 Mins]
Feasts